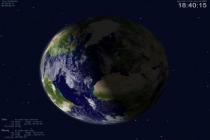 A fantastic screensaver with space images of the Earth.
Actual Earth 3D in other languages:
Actual Earth 3D en castellano
Actual Earth 3D em português
Actual Earth 3D in italiano
Actual Earth 3D w języku polskim
Actual Earth 3D in het Nederlands
The Actual Earth 3D screensaver, which is offered here to download for free, offers you on your desktop a great view every time it's activated, no more or less than an incredible view of our planet as seen from the galaxy, hanging over a bed of stars, as it would be seen by a visitor who comes to our world on holiday.
In this image of Earth that's provided by Actual Earth 3D, modelled in 3 dimensions in a totally realistic way, you can see the rotation of the planet in real time from a sharp angle with the current time, and the co-ordinates of any place on the surface. In addition, Actual Earth 3D offers detailed information on sunrise and sunset, both the Sun and the Moon at a point, and the duration of the solar and lunar days.
A truly wonderful screensaver you can enjoy on your PC when you want, simply by downloading Actual Earth 3D for free.
Searches related to Actual Earth 3D