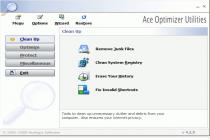 Utilities to optimize your system.
Ace Utilities in other languages:
Ace Utilities en castellano
Ace Utilities in italiano
Ace Utilities is a collection of tools to optimize the efficiency of your system, which will delete unnecessary files and traces of Internet browsing.
The program lets you find and delete invalid entries in the Registry, delete Internet logs, cookies, etc. Also, with Ace Utilities you can see which programs start automatically with Windows, and disable them if you want.
And as if that seems little to you, Ace Utilities includes options to find duplicate files, repair or delete broken shortcuts, uninstall programs, analyze hard drive space, look for empty system folders, and much more.
Searches related to Ace Utilities