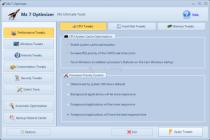 Optimize your Windows 7 to get the most out of your PC.
Mz 7 Optimizer in other languages:
Mz 7 Optimizer em português
Mz 7 Optimizer in italiano
Whatever the operating system in your PC, it is always a good idea to posses an optimization program for your hard drive, like this Mz 7 Optimizer, for example.
Mz 7 Optimizer, as the name indicates, is an optimization tool for hard drives working under the Windows 7 system. It is a complete suite where you will find everything necessary to get the most out of your PC, making it work much faster, and stop being unreliable.
Among other functions, with Mz 7 Optimizer you can optimize the efficiency of your machine, accelerate the loading of games and applications that need more resources, adjust and personalize the operating system windows, make intelligent use of the PC's memory and processor, increase the efficiency of the Internet connection and download speed, delete unused and temporary system files, and much more.
Searches related to Mz 7 Optimizer