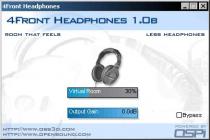 The best sound if you use headphones with your PC.
4Front Headphones in other languages:
4Front Headphones en castellano
4Front Headphones in italiano
If you like to listen to your music on the PC with the best quality, and are one of those users who have the most popular players on the market (like Windows Media Player, Sonique, Winamp, Musicmatch Jukebox, Jet Audio or Foobar200), you'll be interested in 4Front Headphones.
4Front Headphones works as a plug-in, able to implement itself into those players mentioned above, and increase their ability to play high quality sound.
Due to its small size and free download, it is worth trying 4Front Headphones don't you think? On the author's website you can consult a list of compatible programs, and their corresponding versions.
Searches related to 4Front Headphones