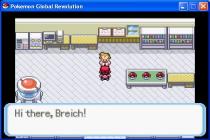 Explore the world of Pokemon in your own time.
Published on 14/10/2011
Pokemon Global Revolution is a fun adventure, with a design and style similar to the famous 2D RPGs on Nintendo consoles (Legend of Zelda and similar), which introduces you to the world of Pokemon. Here you can experience fantastic adventures looking after and training these fun animals.
This is your mission in Pokemon Global Revolution, but to do this you have to hunt them, as you start the game with only one Pokemon (you can choose from Squirtle, Charmander or Bulbasaur). Choose where to start your journey, from the cities of Kanto and Hoeen, and take your time in any part of the game. And above all, get all the Pokemon in Pokemon Global Revolution!
Search