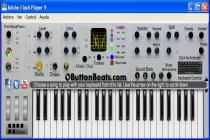 A complete virtual piano, with which you can make music mixes.
Published on 27/11/2014
ButtonBeats Piano Virtual in other languages:

ButtonBeats Piano Virtual en castellano

ButtonBeats Piano Virtual em português

ButtonBeats Piano Virtual in italiano

ButtonBeats Piano Virtual w języku polskim
Play the piano on your PC with ButtonBeats Virtual Piano, and look like a complete virtuoso! Whether through using your mouse or keyboard, orwith the reproduction of real piano keys - with which you can even learn the basics of piano - ButtonBeats Virtual Piano lets you play songs while you play along, or even make your own mixes .

ButtonBeats Virtual Piano offers hundreds of songs already included in its database, and each comes with its own score to play it on ButtonBeats Virtual Piano with the keyboard, which you only need to follow while playing on ButtonBeats Virtual Piano. In a few minutes you'll be able to play it yourself.
In addition, ButtonBeats Virtual Piano includes a variety of sound effects, such as organs, you can include in your own songs, and compose the songs for yourself that you've always wanted to hear!
Searches related to ButtonBeats Piano Virtual